the Sixth Form College of Madrid
A - A* Further Maths Results
The most personalised British education in Spain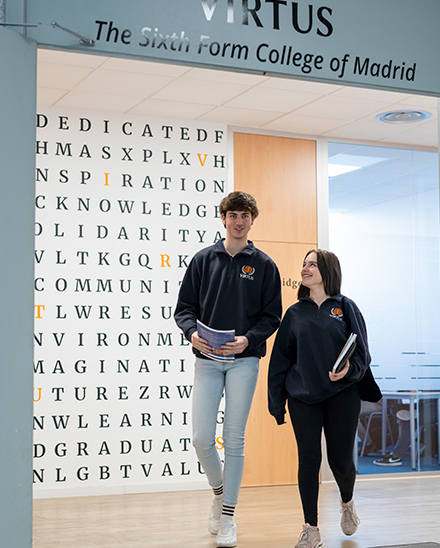 New location in La Moraleja for the
2023-24 academic year
Education that lasts a lifetime
"Virtus was an experience I will never forget. For me, the key thing was working in small-sized groups and preparing the A-Levels supported by teachers and the mentoring programme".
Jacopo Manfredini
ALUMNO DE VIRTUS
"Mi hijo estudió en Virtus los dos últimos años antes de ir a la universidad. La vocación de todo el equipo y el empeño en que los alumnos lleguen al máximo es algo que no vi en otros centros de enseñanza".
Ignacio Irurita
CLIENTE DE VIRTUS
"Gracias a un profesorado excepcional, que además mantiene grandes relaciones con los alumnos, he tenido un gran apoyo durante mis A-Levels que me ha permitido sacar las notas necesarias para entrar donde yo quisiera".
Luis Fernández
ALUMNO DE VIRTUS
Application Process now open
Learn more about our admissions process