The British Sixth Form College
Education that lasts a lifetime
Virtus is a Sixth Form College, a British school specialised exclusively in the A-Level stage (15-18 years of age) and university entry. Our mission is to bring out the potential of future generations by offering them a cutting-edge education focused on personalisation, innovation and excellence.
New location in La Moraleja
Discover our new location at C/Salvia 46 (La Moraleja)
A tailored-made architectural project to create a space that meets the needs of a Sixth Form College and offers an environment with unlimited opportunities for personal development.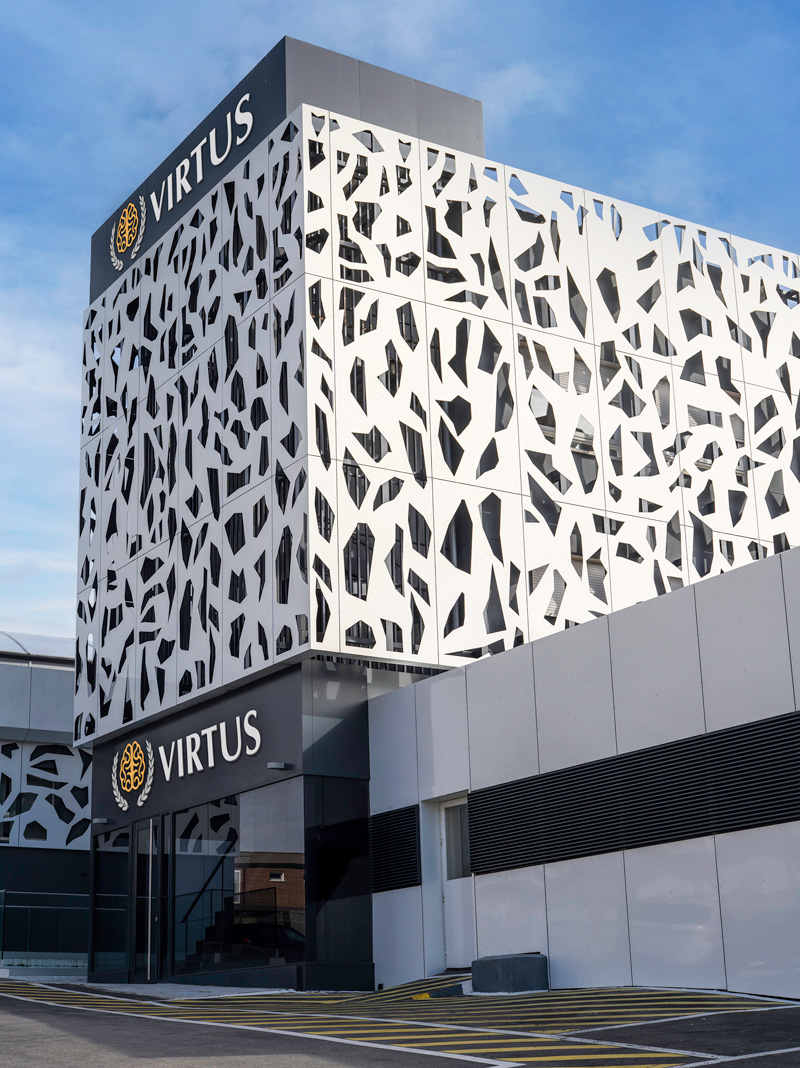 The British school
of the future
A British school with 80 students split into two year groups (Year 12 and Year 13) with a flexible educational programme that meets the needs of every student. We provide a cutting-edge education that makes use of the best tools from the education sector, an innovative methodology based on active learning with an emphasis on the acquisition of 21st-century skills and competencies.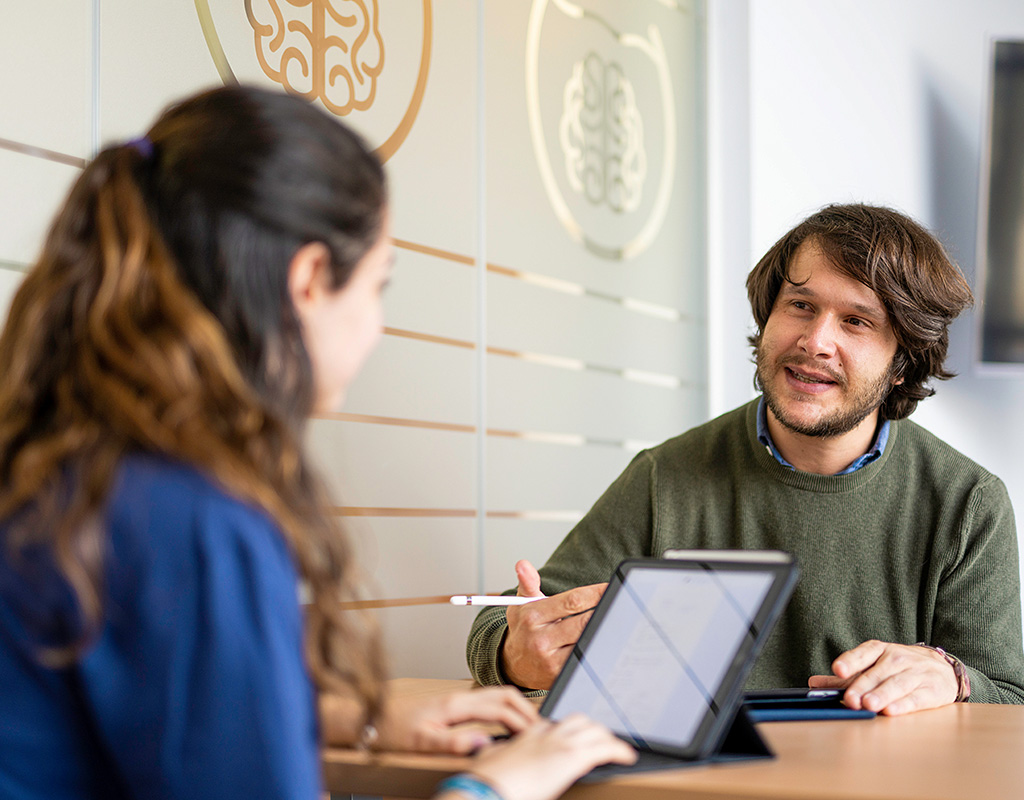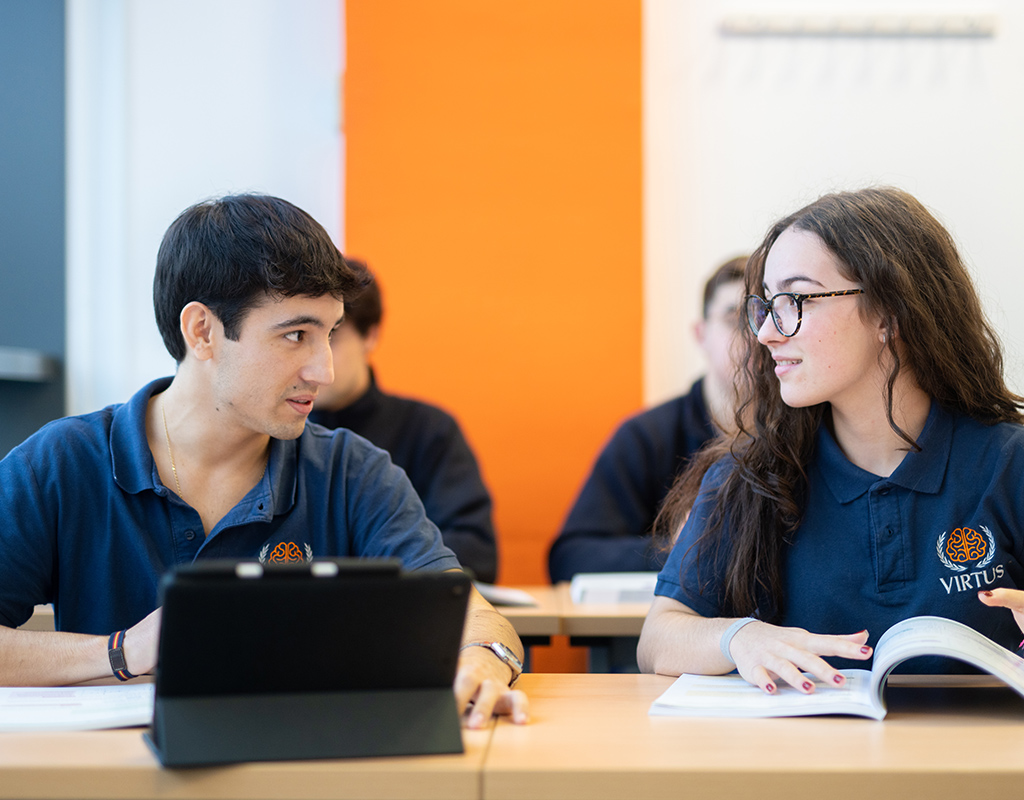 Average of 5 students
per class, maximum of 9
Our educational environment in small groups allows for high-quality education, a stronger support system and greater affinity between the teaching staff and students, while allowing us to provide all the tools necessary to nurture their individual potential and achieve better results.
The ultimate preparation
for university
At the core of our educational programme is a unique approach aimed at strategising, supporting and enriching our students' individual profiles for access to university. Prior to entering Year 12, we analyse each student's starting point through the use of vocational tests to help us design an individual road map for the upcoming two years. The school management together with the teachers work tirelessly to meet the milestones and ensure that the knowledge, requirements and competencies for their choice of degree are worked on in those two crucial years.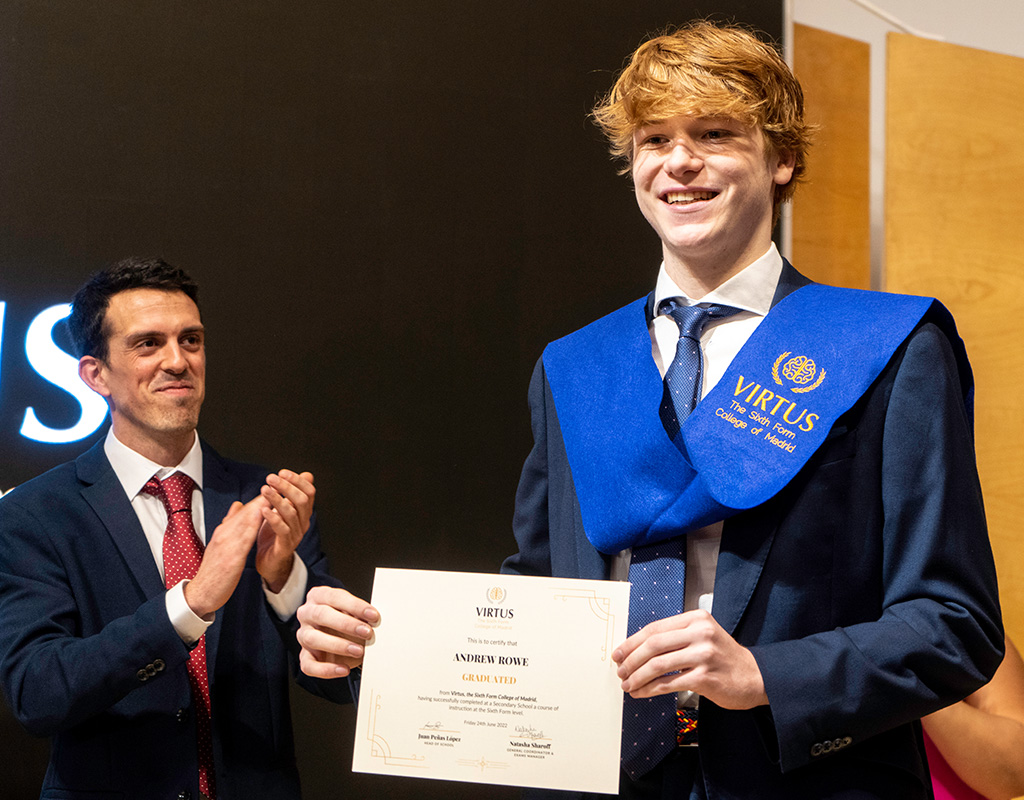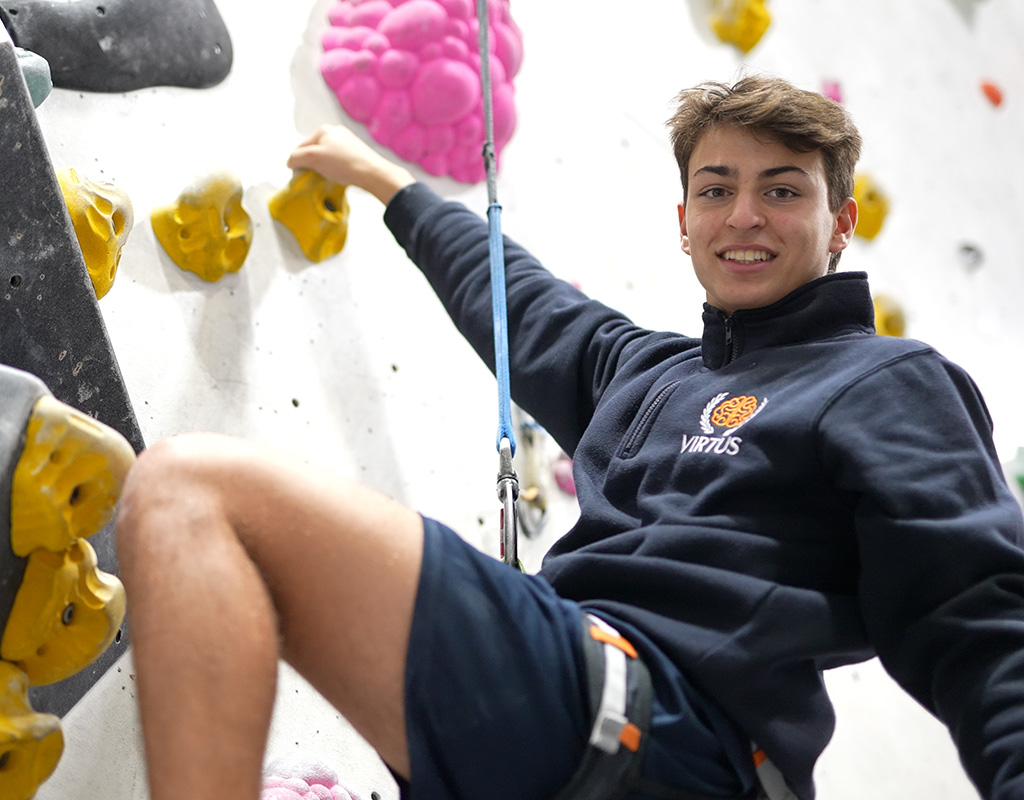 A tailor-made environment
for Sixth Form students
Because we specialise in the education of Sixth Formers, not only do we strive to enrich our environment by designing state-of-art facilities, but we also invest in inspiring teachers who are adept at understanding young adults. It is important that students immerse themselves in an environment that models the university experience.
Education that lasts
a lifetime
"Virtus was an experience I will never forget. For me, the key thing was working in small-sized groups and preparing the A-Levels supported by teachers and the Mentoring Programme".
Jacopo Manfredini
ALUMNO DE VIRTUS
"Mi hijo estudió en Virtus los dos últimos años antes de ir a la universidad. La vocación de todo el equipo y el empeño en que los alumnos lleguen al máximo es algo que no vi en otros centros de enseñanza".
Ignacio Irurita
CLIENTE DE VIRTUS
"Gracias a un profesorado excepcional, que además mantiene grandes relaciones con los alumnos, he tenido un gran apoyo durante mis A-Levels que me ha permitido sacar las notas necesarias para entrar donde yo quisiera".
Luis Fernández
ALUMNO DE VIRTUS
"Quiero destacar el grado de profesionalidad y de excelencia de todos los profesores y staff de Virtus. Ha sido un placer y un gran acierto haber llevado allí a mi hijo, que ha conseguido sus objetivos y ha tenido una enseñanza de primera insuperable . Recomiendo Virtus a todos los padres que estén buscando un centro educativo donde la calidad de enseñanza y el trato humano y personal sea único".
Rosa Hita
CLIENTE DE VIRTUS
"Estoy estudiando Engineering Business Management en University of Warwick y fui estudiante de Virtus en los cursos 2020-2022. Este colegio es muy diferente a otros, no solo es una gran familia sino que tienes la oportunidad de aprender de una manera divertida. Si alguien me preguntara "¿Hay algo que te lleves de estos dos años de estudio?" Personalmente diría que me llevo amistades para toda la vida, independencia, madurez y momentos inigualables".
Yago Díez
ALUMNO DE VIRTUS
"The whole experience in Virtus was amazing. You get treated in a very different way to other schools and teachers are very supportive, always trying to push your limits. I can only say good things about my school".
Mohamed AlSabah
ALUMNO DE VIRTUS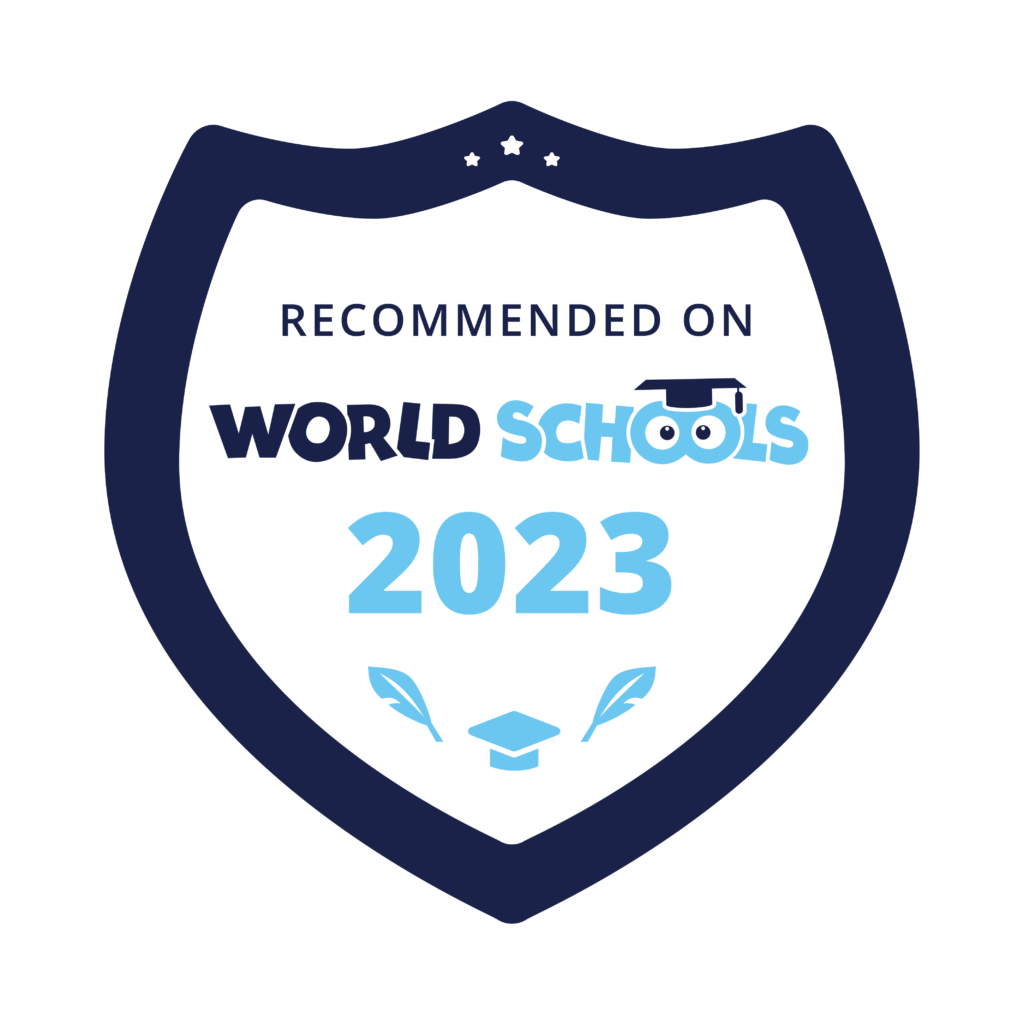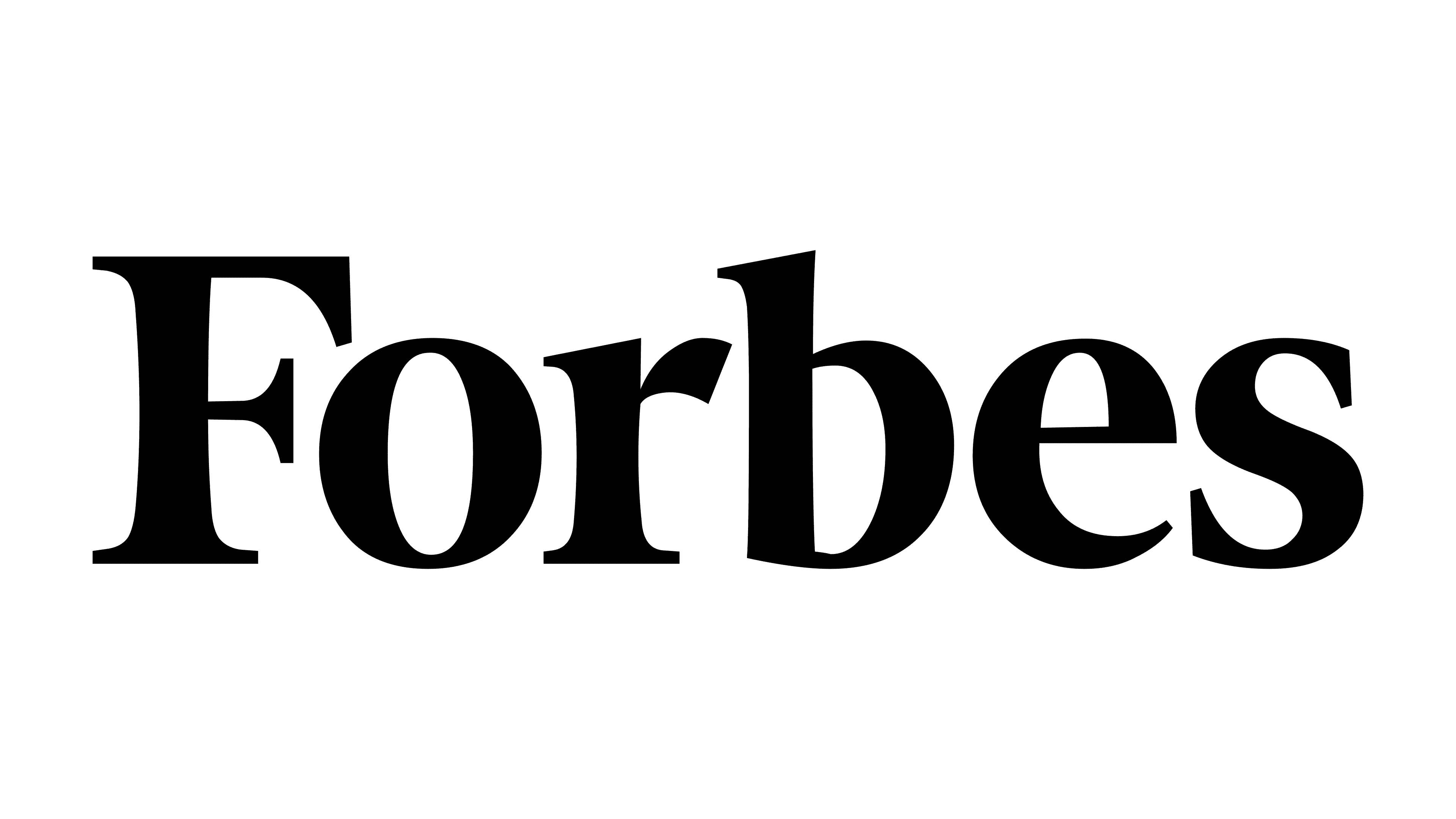 Virtus, The British Sixth Form College has been rated by Forbes Magazine in the Top of the best 100 schools in Spain.