At Virtus, the Sixth Form College of Madrid we work with our own innovative Educational Programme which combines the A-Level curriculum with the Co-Curriculum and Mentoring Programme. Our Educational Programme is designed to develop 21st century skills and competencies among our students, foster individual interests, and provide a solid foundation for university and the workplace.
We work with groups of 9 students to offer the most personalised education in Spain.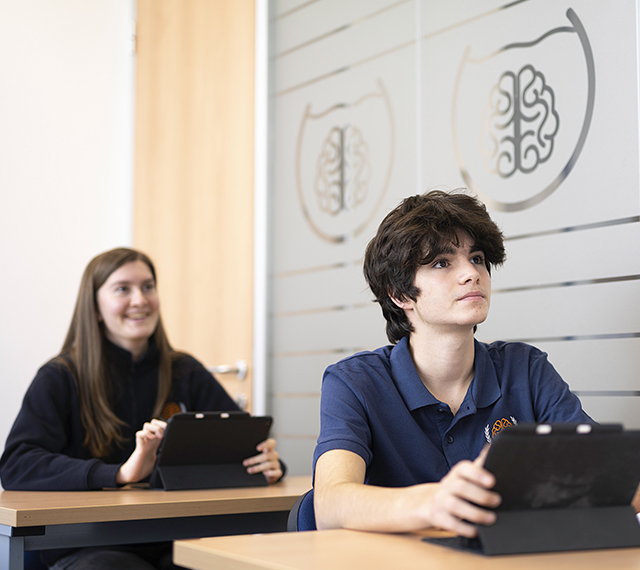 We conceive the A-Level stage as a journey that requires an individual strategy for each student, from the initial choice of subjects, to the building of a competitive profile and ending with official exams. We implement this strategy through the Roadmap that we design per student, with the Student Profile as the starting point: a study of the abilities, interests, and personality of each individual. The results are then used as the foundations from which a plan for the next two years is drawn up, based on the four components of the Educational Program:
British Curriculum: an internationally recognised educational system, highly valued by the best universities in the world and which allows students to specialise in four subjects.
Co-Curriculum: we provide a varied and compulsory offer (Stage Space, Clubs and Societies, and Sports) alongside the study of A-Levels, to help our students acquire 21st century skills and competencies and to support their physical wellbeing.
Mentoring Programme: Mentors manage the Roadmap of each of their students, carry out weekly monitoring, and prepare university applications, advising the student and contributing to the enrichment of their skills in order to build a competitive profile.
Through the Stage Space (drama, debating, and public speaking) we work on critical thinking, communication, and collaboration skills and stimulate students' imagination and intellectual curiosity. Thanks to the Clubs and Societies (Chess Club, Photography Club, etc.) founded by our students, we encourage creativity and innovation, responsibility, initiative, and autonomy.
During the mentoring sessions, Mentors constantly monitor each student's academic progress and personal concerns. They learn how to be more productive through the design of study plans and how to persevere with the goals set out in the Roadmap. 
Through the use of technology in the classroom (our students work with iPads and Apple Pencils) we encourage access to information and its proper management and analysis. During our Project Weeks, assemblies, and visits to universities and companies, we promote sociability and intercultural competence.
The Roadmap's end goal is to provide each student with what they need in a structured way in order to develop a well-rounded individual with a competitive profile that increases their chances of gaining access to university and that meets the skills and competency requirements of today's world of work.
The Virtus curriculum consists of a choice of four A-Level subjects and the Extended Project Qualification (EPQ).
We work with the International A-Level (IALs) curriculum, a flexible and up-to-date programme that allows students to choose their subjects and, thereby, boost their performance in order to gain access to any university worldwide. Each student at Virtus, the Sixth Form College of Madrid picks 4 subjects, which must include Spanish.
Our students sit internal exams every five weeks and official exams at the end of Year 12 and Year 13, dividing the examination pressure into two years.
The EPQ is an individual project undertaken by all our students over the two years at Virtus, the Sixth Form College of Madrid. Its main benefit is to improve the student's ability to collect, organise, and evaluate information, while working on writing skills at a university level.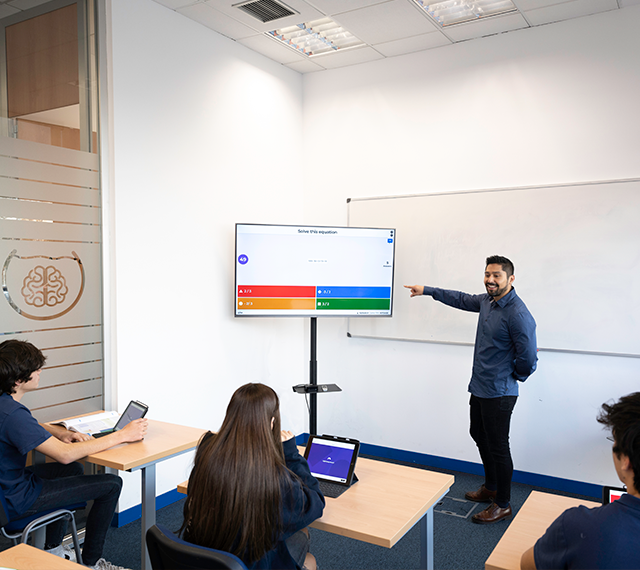 Our teaching staff is a mix of British native speakers and international professionals, which fosters a global culture within the school without losing sight of the values of our educational system. We surround ourselves with qualified professionals with extensive experience in the British education system and a real vocation for their subjects, in order to inspire and transmit our students a passion for knowledge beyond textbooks. The teachers are, in turn, Mentors of the students and for this reason we are committed to the youth and dynamism needed to carry out the Mentoring Programme.
Teachers and students work with the best digital tools. The iPad and its accessories work as a computer, tablet, book, camera, notepad, calendar, and folder… all in one!
Our teachers utilise this digital environment in many ways: through specific apps that help students to visualise concepts or by encouraging competitiveness through interactive quizzes, amongst others.
The use of digital resources helps students relate concepts to reality, and provide a basis prior to classes so that they can work more on evaluation, analysis, and discussion.
For students, it is an enormous leap forward in their ability to organise, take notes, and use digital resources to research and present information.
Our methodology is focused on a comprehensive development of the skills and knowledge of each subject through an approach that gives the student a more active role in the learning process.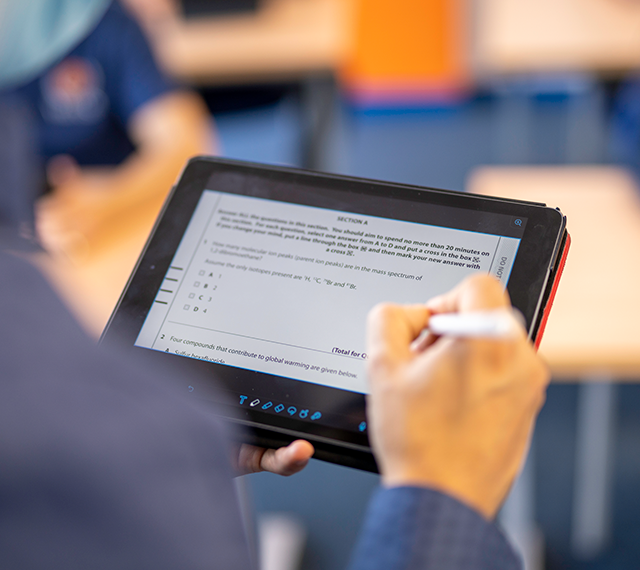 All students, regardless of their academic level, have the opportunity to work on the syllabus outside teaching hours. For this reason, Virtus, the Sixth Form College of Madrid students can join the Clinics (extra classes) that we offer in the afternoons to work on specific aspects that their teachers and/or mentors have recommended for further study. The Clinics are also a quiet space to continue studying in the afternoons, away from any distractions at home.
The Co-Curriculum at Virtus, the Sixth Form College of Madrid is a compulsory component for all students and focuses on the physical, psychological, and emotional development, with the Stage Space as the main axis: drama, public speaking, and debating. Through the Stage Space we develop qualities needed in the world of work, and 21st-century skills and competencies such as leadership, oral expression skills, argumentative capacity, and the ability to work under pressure. We also use debates to develop a passion for culture and current affairs and to encourage critical thinking and intellectual curiosity. 
Our students practise sport in our facilities or in the surrounding area and can choose among a variety of options such as padel, tennis, football, or yoga, among others. They also enjoy the concept of responsible freedom by creating Clubs and Societies within Virtus, the Sixth Form College of Madrid such as the Chess Club, Photography Club, or Finance Club. This gives free rein to their passions and interests while the ability to create synergy among students is very beneficial for the A-Level period and fosters a sense of community.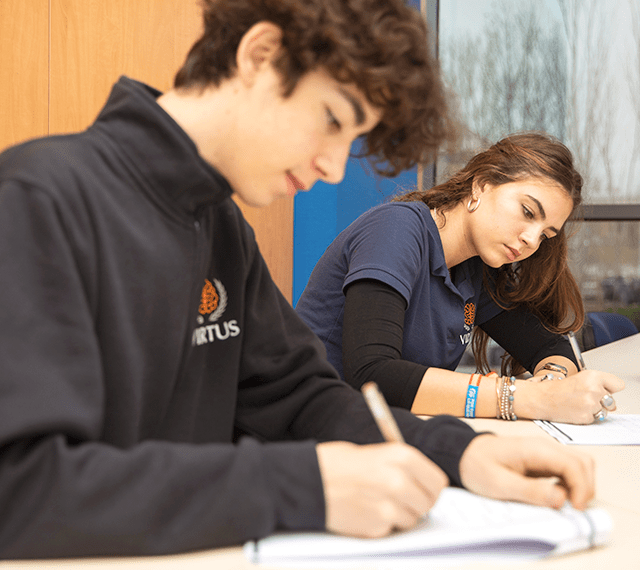 At the start of Year 12, each student is assigned a Mentor who, through the Mentoring Programme, ensures that the student follows their Roadmap with the support of the school and teachers, turning the student's long-term aims into achievable short-term goals. 
Through the Student Profile, we identify weaknesses, strengths, interests and personality traits. These results allow us to work from a foundation of knowledge and provides Mentors with valuable information to better understand the student and the type of skills and competencies to be worked on in the Mentoring sessions. 
The Mentoring Programme revolves around three axes: Student Guidance, Skills development, and University counselling and enrichment.
The Monitoring that takes place in weekly meetings between students and their Mentor is the cornerstone of personalisation at Virtus, the Sixth Form College of Madrid. These sessions monitor the student's progress, their commitment to homework, results in internal exams, and their study timetable. The definition of short-term goals for each subject allows the Mentor to work on academic motivation and to delve deeper into personal aspects that affect performance, while creating a climate of trust so that the student can express any concerns or needs they may have. 
Communication between students, their Mentor, and their teachers is a permanent cycle of information, the result of which affects the specific skills being worked on with the student at each stage of the course, as well as the type of enrichment and university advice that is provided.
In the weekly Mentor-student meetings, monitoring is carried out from all angles:
Academic performance: during class, with homework, in internal exams and in official exams.  It influences how study techniques are addressed and is useful for Mentors to gain insights into the reasons behind performance.


Goal setting: for each subject and in the short term, setting short-term goals provides motivation to achieve aims, while monitoring the Roadmap execution provides perspective and reassurance.


The student's personal organisation: What habits do they have? Which ones should be corrected and what new habits should be encouraged? The aim is to help the student to be more efficient and effective in their time management, but also in their concentration when studying.


Emotional wellbeing: mentoring sessions, on their most pastoral side, are the perfect time to listen to students, understand their needs and concerns and share these with their teachers and other members of the school, such as the Counsellor and Head of Sixth Form. The monitoring provided by the Mentor is at the heart of our Pastoral Care & Wellbeing.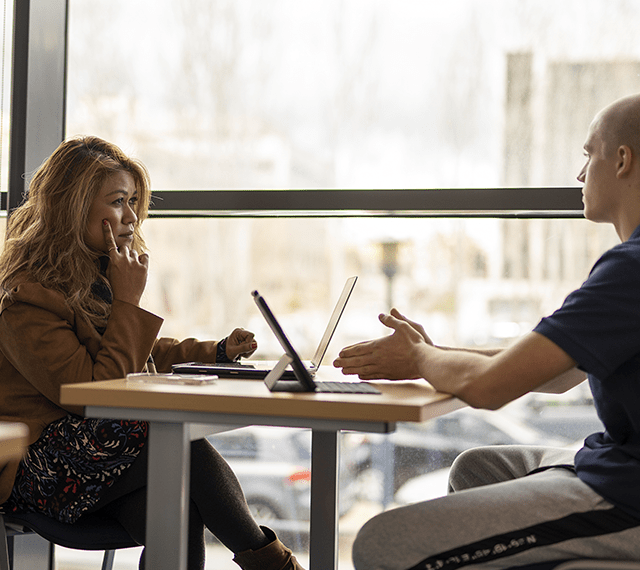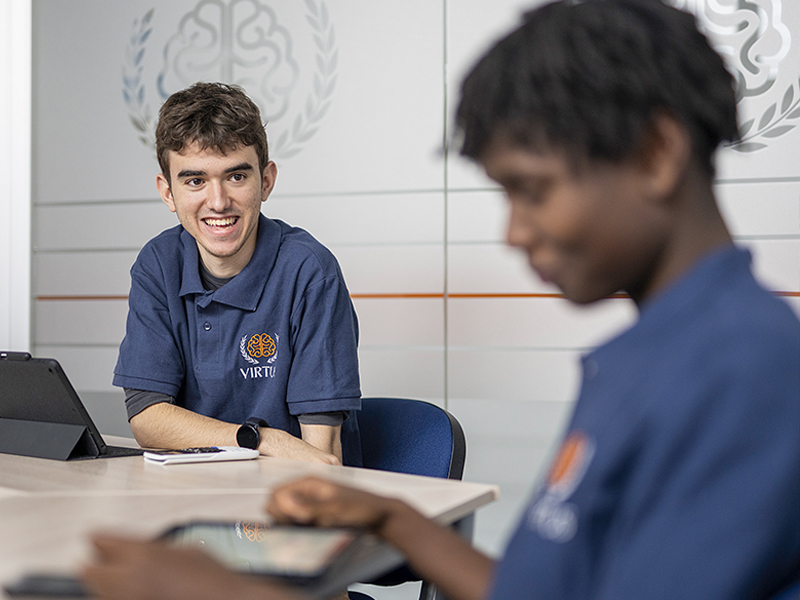 The Mentor works on specific skills according to the student's needs to ensure good A-Level results. We place special emphasis on time management skills, improving study efficiency through individualised organisation plans and study technique sessions. This is especially relevant around the time of MOCKs or official exams.
Mentors communicate regularly with teachers to identify the academic needs of each student and address them through specific workshops such as essay-writing or mathematical thinking if a student has difficulties in writing or needs to strengthen their mathematical foundations, respectively. In addition, Mentoring sessions are used to empower the student with technology, practising the use of tools and software and teaching the student how to search and analyse information on the internet.
University counselling and enrichment
Virtus students attend the best universities in the world, largely due to the personalised strategy we design for each of them as part of our university counselling. We are fully aware of the new trends and demands from universities and companies so our enrichment focuses on equipping students with the tangible experiences, knowledge, and skills that are expected of them.
The starting point is the choice of A-Level subjects, which we agree on with each student, taking into account the results of the Student Profile and their future degree interests. The aim is for each student to gain access to the university they want and, to this end, Mentors design an enrichment and counselling plan that is integrated into the Roadmap and tailored to each stage of the year. In Year 12, we encourage the development of the skills necessary to build a competitive profile that will attract a university's interest . If a student wants to study engineering, we will complement their A-Levels with programming classes; if they want to study economics, they will attend finance classes. In the summer between Year 12 and Year 13, we promote student participation in work experience, shadowing placements, and MOOC courses. In Year 13, we focus on the application process, helping each student individually with their personal statement and preparing for entrance exams (BMAT, PAT, SAT, etc.), and the interview.
Pre-university enrichment is continuous throughout the two years at Virtus, the Sixth Form College of Madrid allowing students to submit a university application that is full of tangible experiences, making our students more competitive.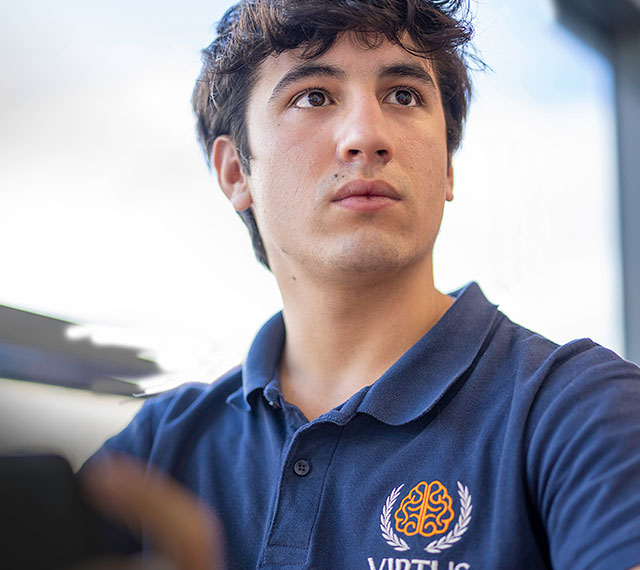 Pastoral Care
& Wellbeing
Virtus, the Sixth Form College of Madrid is a small school where students are happy because they feel supported. Our community spirit (Sixth Form Community) is marked by strong friendships between students and an essential climate of collaboration and support with teachers. Our small group model  (nine students per class) and specialisation in the 16-18 years age group puts at the service of each student all the necessary means to offer a personalised attention, which also involves the parents and the centre's staff.
We treat our students as young adults under the concept of "responsible freedom", in order to foster their independence in a controlled manner and to promote their participation in all aspects of daily school life to enhance their talents, develop their interests, and support them through the ups and downs.
At Virtus, the Sixth Form College of Madrid we have a support structure led by Mentors (who focus on pastoral care) and supervised by other figures including the Counsellor (an expert in psychopedagogy) and the Head of Sixth Form.
We promote the wellbeing of the students by promoting healthy habits during assemblies and through the organisation of lectures and workshops with professionals of the meditation or nutrition fields, among other areas.